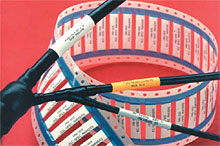 Marking systems include a wide variety of options for identifying and labeling wire harnesses, cables, circuit components, and other products. Durable heat shrink polyolefin can be hot stamped or printed in thermal transfer with permanence that meets military specifications. Pressure sensitive labels are designed for all types of applications and available in polyester, vinyl, nylon, high temperature kapton and other materials. Offered in virtually any size, they are also available in the self-laminating label. Complete marking system hardware and software packages for thermal transfer, dot matrix and laser printing can be purchased.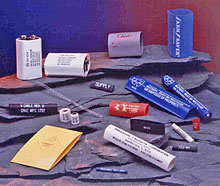 Hot stamp printing can be performed on virtually any type of heat shrink tubing or extruded tubing and used for custom logos, part numbers, date codes and serial numbers. Many color choices in tubing and marking, along with standard text sizes from 1/16" to 1/2" can be printed. In addition, custom tooling can be created from your artwork and printed as required.
Thermal transfer markers utilize heat shrink polyolefin and are ideal for date coding and serial numbers. The marks are permanent and remain legible even when exposed to abrasion, cleaning solvents, fuels and oils. Complete thermal transfer printing systems are available.
Used for bar coding, PCB's, components, equipment, nameplates, tamper-evident and general purpose labeling. From economy paper(66°C) to polyester(150°C) to Kapton(260°C), most all label applications can be met. Self-laminating labels are supplied with a white printable area and then over-laminated upon application with the translucent portion on the label. Protects the printed area from exposure to oil, solvents, water and abrasion. Ideal for wire and cable identification due to the excellent conformability to round, irregular of flexible shapes.

Hand held, portable and desktop thermal transfer printers ranging from 180 dpi to 600 dpi resolution and for low volume printing to high performance / high speed printing are available. The printers are versatile and designed for use with heat shrink marker sleeves and pressure sensitive label products. Printing software, compatible with Windows, is low cost and easy to use. Pre-loaded with all identification product options to ease in change over and marker design. Huge array of font options are accessible and wire lists can be imported from spreadsheets and databases.