A full line of Instant adhesives, threadlockers & sealers, gasketing compounds, structurals and sealants. We offer an adhesive product for virtually any assembly application in addition to engineering support to design and develop variations to meet custom requirements.
We have the most comprehensive range of instant adhesives available to meet all types of assembly requirements. Designed to bond to similar and dissimilar materials including: plastics, metals, elastomers, wood and porous surfaces. With faster cure times and superior bond strength, these products are easy to use, convenient and dependable. Available in a complete range of viscosities, cure speeds and performance properties.
Adhesive and sealants for threadlocking, threadsealing, retaining and gasketing. Available in different strengths, cure times and viscosities to meet your application requirements. Threadlockers are used in a wide variety of assemblies, from delicate electronic devices to heavy industrial equipment by preventing against vibration loosening and at the same time locking and sealing threaded assemblies. Threadsealers are designed to seal and secure metal pipes and fittings by filling the space between metal parts and hardening to prevent leakage. Liquid gasketing materials are ideally suited for applications where there are small gaps on rigid metal to metal assemblies. Allows for maximum clamp loading and positive sealing of mating flanges and hoses.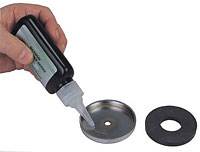 Structural adhesives, both one-part and two-part systems create strong, durable bonds that assure maximum performance in assemblies that see stress, shock and impact. Due to their unique bonding properties, they will structurally bond a variety of plastics, ceramics and metals. Designed to work in harsh environments, they are available in a full range of viscosities and cure speeds.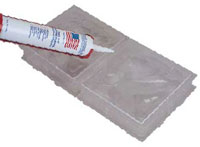 Extremely versatile sealants that bond to a wide variety of materials. They are used on glass, ceramics, masonry, wood, painted surfaces, metal and plastics. Because of the silicone compounds used these products offer maximum flexibility and provide a positive seal in a wide temperature range.